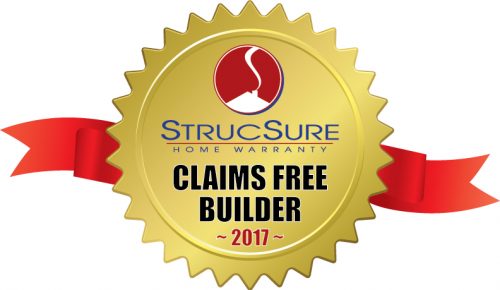 Today's homebuyers are making the investment of a lifetime and they want protection in the event their new home develops a construction or structural defect.  Most homes are built with pride and quality workmanship, but sometimes defects happen despite a builder's best intentions and efforts.  Savvy builders provide their buyers with a new-home warranty from StrucSure Home Warranty to not only make their buyers feel confident about their purchase, but to give them peace-of-mind and protect them in the event the unforeseen occurs.  The warranty is enrolled with StrucSure and paid for by your builder and included in the purchase of your home.
Your builder understands the benefit of a home warranty from both a risk management and customer satisfaction perspective.  By providing warranty protection on the homes they build and sell, they reinforce their commitment to quality and service and help their customers sleep better at night knowing they are covered.
Your builder understands the value of warranty protection and chose StrucSure Home Warranty as their third-party warranty administrator because of our commitment to service, focus on claims resolution, and dedication to the homebuyer experience.  As a leading provider of insurance-backed home warranties, StrucSure has protected over 135,000 homeowners across the United States since 1997 and is honored to protect your valuable investment.
WHY HAVE WARRANTY COVERAGE?
A new-home warranty from StrucSure Home Warranty provides homebuyers with peace-of-mind and financial protection in the event a construction or structural defect occurs in their home. Without a new-home warranty, a homeowner could find themselves with a hefty repair bill, a legal nightmare, or even worse, a home that is unsafe to live in. The hope is you will never need warranty coverage, but if a problem emerges, you'll be glad you're covered!
COVERAGE OPTIONS
StrucSure offers two new-home warranty products:  A 1-2-10 warranty and a 10-year structural only warranty.  Please note your coverage is dependent on which warranty your builder purchased for your home.  Please reference your Home Enrollment Application (HEA) and/or Warranty Certificate for details.